I personally think it's important to encourage any and all creative flair a kid shows. Agent M as a tot liked to join in "colouring" while I was drawing. I have some of his early pictures (colourful scribbles) on my wall that he done before he could even talk properly. I give him (semi) free reign to see what he draws/paints/builds.
I don't know if it's due to seeing me craft but he's always had a keen interest in "messy play" as we call it. There is a box of supplies I regularly top up for rainy days or holidays so he can make whatever comes to mind. And he's got quite the imagination :)
So imagine my joy at finding out about a company that sends craft kits directly to your door once a month. Let me tell you about
...
It is a monthly subscription box filled with the materials needed to create a themed project.
It was set up by a fellow mama who too felt it is important to stimulate end indulge young creative minds :)
Its a brilliant way to top up your rainy day box
*or in my case keep him occupied while i work on an assessment for college*
The first box was a free trial (rrp £3.95) so I quite happily signed Agent M up and a few days later his petite box arrived.
First off the fact that it was addressed to Agent M personally was an automatic plus. He came home from school to see it at the phone table and he was delighted (without even knowing what was inside as I kept it hush hush to surprised him).
He opened it up and was thrilled to find his very own craft kit. The theme was "jellyfish" and having a quick read at the instructions, I figured it would be something he could make himself with relative ease.
The boxes are divided into 2 age groups. The "Early Years Foundation Stage" which covers ages 3-5 and the "Key Stage One and Two" which covers ages 5-8. This is a great idea as you know the projects your getting will be age appropriate. Agent M is quite an independent kid. He likes to make things with minimal help from me (he gets frustrated if I have to intervene too much).
The kit we got was perfect for him to do solo but if he was younger there would have been plenty to keep him amused while I helped (what kid doesn't like stickers lol).
Anyways, I had a lot of college work to do so he was quite happy to sit next to me and make his jellyfish while I supervised out the corner of my eye *I ended up watching him more than doing my homework ... hence the pictures*
So first off he was sticking the dots on his jellyfish ... there were two jellyfish in the kit but he decided to make one at a time.
Next he cut up the straw into 4 equal pieces (using his own safety scissors) and taped them in place. The concentration on his face as he threaded the ribbon through the straws was brilliant. He makes me chuckle something when he has his serious face on.
Next up was the purple ribbon for the "jellyfish legs" (that's the tentacles to you and I), the beads and the googly eyes.
It took him just shy of 10 minutes to make the first one but he had a lot of fun doing it. The second was quicker as all the bits were cut out first time round but we spent a good half hour racing them (that's what the yellow ribbon is for - as wellness to hang them). It was quite a simple wee craft kit but it gave him a good we afternoon and considering it was free ... it gets a 2 thumbs up all round :)
We have continued the subscription but we upgraded to the Grande set (£9.95 a month + £2.95 p&p) which gives you 2 kits a month plus a book ... though they also offer a Super set (£16.95 a month + £2.95 p&p) which gives you 4 kits.
I'll let you all know what he gets in his next one when it arrives :)
Do you wanna try the petite Toucan Box for free?
Click HERE for the link to claim your free box
Do you know of any other good craft subscription boxes? Feel free to leave the details in the comments below :)
Entered in the Mid-week Blog hop hosted by the lovely Debs over on
Super Busy Mum
:)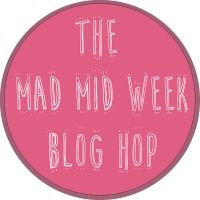 Entered into the Brilliant Blog Posts hosted by the lovely Vicki over on Honest Mum :)